I don't know Qatar though I have spent a few hours in Doha awaiting a connecting flight. As Qatar Airways has a direct flight to Maldives, I decide to make a brief stop-over in this rich Gulf country after Lebanon. 
Qatar occupies the small Qatar Peninsula on the northeastern coast of the Arabian Peninsula with an area of 11,586 km². It borders Saudi Arabia to the south with the rest of its territory surrounded by the Persian Gulf. Following Ottoman rule, Qatar ruled by the Al Thani family since the mid 19th century, became a British protectorate in the early 20th century until gaining independence in 1971. It is a hereditary constitutional monarchy.
The estimated population in 2014 was over 2.1 million: about 300,000 Qatari citizens and the rest expatriates. Islam is the predominant religion: over 70% of the Qatari citizens are Sunni Muslim and 10-20% Shia Muslim. Sharia law is the main source of Qatari legislation according to Qatar's Constitution.
Qatar boasts the highest GDP per capita in the world. Before the discovery of oil in 1940, its economy focused on fishing and pearl hunting. Today, it has the world's third largest natural gas reserves and oil reserves. Its GDP (PPP) and per capita (PPP) in 2014 was estimated to be about $298.4 billion and  $145,894 respectively. The exchange rate is USD$1 to 3.6 Qatari Riyal (QAR).
Qatar has enjoyed unprecedented growth in the past few decades and will host the 2022 FIFA World Cup. It is the world's largest construction site: new suburbs for Qatari citizens, a metro line, nine new stadiums and other facilities for the 2022 World Cup.
January 4 Monday: Beirut, Lebanon – Doha, Qatar (GMT+3)
My flight departed on schedule at 2:15pm and I landed at the Doha airport after 5pm. I find the immigration service slow and the interior of the airport gloomy. I also had to pay US$28 for a tourist visa. (I recall I got a visa free of charge in Dubai)
I took a free shuttle to Mövenpick Hotel in the West Bay. Lawrence and Sally who arrived from London early in the morning, had already settled down in a comfortable and spacious room with a kitchen. But we had only two single beds and Lawrence had to sleep on the floor.
January 5 Tuesday: Doha
After looking at the tourist information, we planned to visit north Qatar and Al Zubara Fort and the west coast. The hotel told us we could hire a car and driver for 90 QAR an hour. This is pricy. Lawrence did not want to drive. Hence, we decided to tour Qatar using public transportation: a 24-hour bus pass costs 20 QAR. 
We had a good sleep and did not leave the hotel till 11:30 am. Upon arriving at the Doha Bus Terminal at 12:30 pm, we spotted Bus 101 to Al Shamal located at the northern tip was about to leave. We asked whether it would take us to the Al Zubara Fort. The Filipino driver told us that we could get another bus in Al Shamal. We travelled along the modern Al Shamal Highway and saw many building sites. None of the passengers is Qatari: all are probably construction workers. It was after 2 pm when the driver told us to get off. He said Bus 100 heading to the Al Zubara Fort would be arriving soon: he was totally wrong.
Al Shamal is dead quiet at 2 pm. We were hungry and I spotted an Indian restaurant opposite the bus terminal. It is essentially a canteen for the low-paid foreign workers. The food is fairly good and we paid 43 QAR for three set lunches. The owner told us that a bus would be coming at 4:30 pm.
As we still had plenty of time, we tried to explore this sleeping town. A Kenyan approached us offering help. He is a teacher by profession and has come to Qatar to earn more money to support his family.
We saw a health centre which turns out to be a medical centre. We dropped in hoping to find out the bus route and timetable. We met a cheerful group of Syrian doctors and Filipino nurses. But they know nothing about the public transport. Finally we stood by roundabout to wait for the bus. A Qatari was sitting in his car with the boot of his car open: he was trying to sell two cases of white truffles (900 QAR each). A few cars stopped to look at the product and then left. Finally a Qatari in a posh 4WD bought the two cases. Bus 101 finally turned up at 5:10 pm. We got back to Doha two hours later and discovered that Bus 100 departs for and from the Al Zubara Fort at 9 am, 3 pm and 9 pm. No one including the Filipino driver knows the timetable. We are stupid spending over four hours in the bus and another three hours wandering aimlessly around Al Shamal!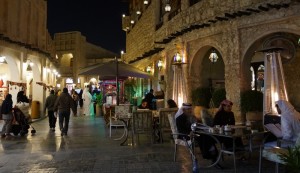 nce we got off the bus, we crossed the road to Souq Waqif, the most important historic market mainly built of stone, mud and wood in addition to plaster. Established in the early 19th century and almost lost in a great fire in 2003, the souq has survived and revived: it is a market as well as an attraction for both locals and tourists with restaurants, food stalls and cafes, craft centre, arts centre, three mosques and Aldama Council.
The old city and souq area are busy and lively. The souq is atmospheric with mostly locals and very few tourists.  It was a nice evening and many locals were dining outdoor or strolling around. Sally and I went into a shop selling daggers and swords. We had a long chat with a young Qatari who looks after the shop for his cousin. He showed us an antique dagger from Oman with exquisite design and craftsmanship.
We enjoy the souq which consists of many markets (gold, herb, textile, pet etc). Of all the markets, I like the Falcon Souq most. I am surprised one of the birds costs over 2,000 QAR! We were hungry when seeing a local bakery with a long queue. We tried to buy two pieces of naan (Indian oven-baked flat bread). Instead, the guy gave us the bread free. Perhaps the shop keeper did not bother to sell such a small quantity (5 pieces for one QAR). We appreciate his generosity.
We also walked along the waterfront which is lit-up with traditional fishing boats (dhow) which now take tourists around the harbour. We had good views of the West Bay and the Museum of Islamic Art.
January 6 Wednesday: Doha
Our flight to Maldives would be leaving at 1am on January 7. We therefore had a full day in Doha and wanted to go to see limestone rocks in mushroom  shape on the west coast. We were told to take Bus 104 express to Dukham at 8:30 am. Hence we had a very early start: we checked out at 7:15am and arrived at the bus terminal by 8 am. The bus departed on time but moved slowly for the first hour as the traffic jam was horrific.
When we got off the bus at the end in Dukham, we found ourselves in front of the Qatar Petroleum which occupies a large strip of the coastline. The unique rock formation located at Zekreet Peninsula is several kilometres away. We tried to find a taxi without success: we were prepared to pay someone with a car to take us there. But no one was ready to take up our offer: anyone without a taxi licence if caught taking passengers illegally, would be punished severely. As it is too far to walk, we gave up.
We decided to have an early lunch and found an excellent Indian restaurant.   I had lamb biryani which is tasty and most delicious. We paid 60 QAR for a wholesome meal. We expected the bus around 12:45 pm. But it did not arrive till 1:30pm and we were back to Doha after 3 pm. What a waste of time!
Qatar is the world's biggest buyer in the art market by value: several senior members of Qatar's ruling family are noted collectors of Islamic and contemporary art. Qatar is striving to become a cultural hub in the region: it boasts a few notable art museums. The best known one is the Museum of Islamic Art opened in 2008. Designed by I.M. Pei, it is regarded as one of the best museums in the region.
The museum represents Islamic art from Asia, Europe and Africa over 1,400 years. It is one of the world's most complete collections of Islamic artifacts, with items originating in Spain, Egypt, Iran, Iraq, Turkey, India, and Central Asia. The collection of works include manuscripts, textiles, ceramics, metalwork, jewellery, woodwork and glass.
We spent over two hours enjoying the permanent exhibits and two special exhibitions namely 'Qajar Women: Images of Women in the 19thcentury in Iran' and 'The Hunt: Princely Pursuits in Islamic Land'. Ialso watched sunset over old Doha from the museum.
The museum located on a man-made island in Doha Bay is truly iconic: the architecture has created an Islamic feel and the exhibits are beautifully presented and illustrated. I like the park and waterfront especially when watching families, groups of men and women strolling around leisurely.
I would love to see the Arab Museum of Modern Art, Katara Cultural Village and the National Museum. But unless I take a taxi, it would be impossible to see the major museums and galleries in a day or two. What a pity!
We returned to the souq and had street food and kebab for dinner. It's fun: I enjoy watching locals sitting and eating next to me with their family.
We left the hotel at 10 pm. For some strange reasons, I had trouble with the immigration. The first immigration officer looked at my passport and troubled for ten minutes before passing me to his senior who took another 15 minutes to stamp my passport. What's wrong? I do not know. The plane took off around 1:30am for Maldives.
Remarks (written in February in Hong Kong)
I do not have high expectations in my brief stay in Qatar. At the end, I had a more surprisingly interesting time in Doha which appeals to me much more than Dubai.
What is special about Doha/Qatar? 
First, Qatar is one of the largest (if not the largest) construction site in the world: it is building a metro line, highways and numerous facilities for the 2022 World Cup. Many new commercial, residential and government buildings are popping up in the West Bay area. I note some half complete or abandoned projects and many new but empty buildings. How will the fall in oil and gas price and general downturn of the world economy affect Qatar's ambitious development plan? What Qatar in general and Doha in particular will look like in 2022? I am curious.
Second, Qatar had relied on fishing and pearling before becoming rich after the discovery of oil and gas. The vibrant downtown built around a couple of mosques and Souq Waqif has somehow retained certain atmosphere of its humble past. The sprawling souq is more for the locals than the tourists. There are many street food stalls, cheap local eateries as well as more up-market cafes and restaurants. I watched men and women, families and young couples, stroll around the souq and along the waterfront. They looked cheerful enjoying themselves in a cool evening. 
Third, I do not find Qatar which is said to be one of the most conservative countries in the Middle East, oppressive and restrictive. Instead, I watched many young ladies roaming freely on their own in the waterfront park to watch sunset. Some also smoked in the cafes in the souq like their male counterparts. As the Qataris are the minority group in their own country, I have met and spoke mainly with guest workers from India, Pakistan, the Philippines, Nepal and Kenya. They told me about their work and life and seemed with the pay and living condition. Perhaps the widespread presence of the guest workers from different countries and culture has liven up Qatar!
Finally, while Dubai is the business, tourist and aviation hub in the region, Qatar is trying to catch up and position itself as a cultural hub. The Museum of Islamic Art is a good start and worth visiting. 
These days I only return to a place for a good reason. I do not mind returning to Qatar as I want to visit the Al Zubarah archaeological site (Qatar's only World Heritage Site) which is a partly excavated coastal town built by the Kuwaiti merchants which flourished due to pearling and trade from 1760 till its partial destruction and abandonment after an attack by the Sultan of Oman in 1811. I also want to see the main arts museums and galleries, the forts and the mushroom rock formation. The whole country is well-connected with excellent highways: I should be able to reach all corners of the country if I have a private car/taxi for three days. But it will be pricy!