I come to the UK this time for my god-mother's 90th birthday. My brother Lawrence who has not seen her for over 30 years, brings his wife Sally to visit her too. We had a short driving holiday in Wales before visiting friends in Sheffield and Birmingham. I have a peaceful and relaxing Christmas in Taunton.
December 15 Tuesday: Stockholm, Sweden (GMT+1) – London, UK  (GMT)- Taunton
I had a long travel day and arrived in London after 5 pm. Gary who is living in Taunton kindly gave me a lift so that I could arrive in my godmother's place before her bedtime at 9 pm. I am most grateful for his lift.
December 16 Wednesday: Taunton
Mrs. Thorn has no Wi-Fi at home. I have to walk 2-3km to Negro Cafe in the town centre where I get free Wi-Fi with a mug of coffee. After spending two hours in town, I picked up a small tasty chicken and roast spare ribs in Tesco on my way home. Mrs. Thorn and I both enjoyed our simple but delicious meal!
Lawrence and Sally arrived in London in late afternoon from Copenhagen. He picked up a car from Heathrow and drove to Taunton. I was relieved when they called me around 8 pm. They arrived safely in Taunton before 10 pm and stayed with Gary's sister.
December 17 Thursday: Taunton – Newport
Mrs. Thorn's birthday falls on December 22. She would have her grand-daughter Hazel with her on her birthday. Lawrence, Sally ad I gave her an early birthday lunch at home as she walks with difficulties these days. Mrs. Thorn loves steak and Lawrence can prepare tasty steak. They went shopping and arrived at Mrs. Thorn's place around 10 am. Mrs. Thorn was delighted to see Lawrence again and is very fond of Sally. Lawrence told her about his work, children and life in China and showed her lots of photos.  We had a lovely lunch at 1 pm.
Lawrence's plan was to take a short holiday together before Christmas and to visit his friends thereafter.  Around 3 pm, we were ready to set off. As one of the tyres had problem, Lawrence reported the problem to the car rental company and asked it be changed. After waiting for over an hour, we saw a long vehicle turned up. It took the car and three of us to a compound nearby. By the time the job was done, it was dark. What should we do? Spend a night in Taunton or move on? We decided to set off.
Wales is close to Taunton. We soon found an IBIS Hotel close to the highway and decided to spend a night there. On reflection, we should have gone to Cardiff so that we could see it lit up with festive lightings. Anyway, the room is simple but comfortable and warm. I had a good sleep.
December 18 Friday: Wales: Newport – Cardiff – Dolgellau
We arrived in Cardiff before 9:30am. Cardiff looks lovely with lots of Christmas decorations and a large Christmas Market. Though parking is expensive (£3.5 an hour), we parked the car in order to visit the old market and walk around the pedestrian area. We bought meat, noodles, pies and cake from nice local shops and found the Welsh cheerful.
Then we drove to the bay area which has been redeveloped since 1990s. Parking here only costs a pound an hour. The weather was fine though windy and chilly. We enjoyed a picnic lunch without any tourist in sight.
We had a nice stroll looking at some of the iconic buildings. The Senedd is the National Assembly for Wales. The Pierhead, built in 1897 and former headquarters of the Bute Dock Company,  now provides exhibition space. I saw an interesting ceramic pottery exhibition with 52 heads of people the artist had encountered in her daily life.
The Wales Millennium Center is home to the Welsh National Opera. The Norwegian Church Arts Center is a historic wooden church rebuilt in 1992.  It is ironic to find a modern statue of Robert Scott(1868 -1912) standing next to the Norwegian Church. He was facing the bay where the ill-fated Terra Nova sailed off to the Antarctic in 1910. He reached the South Pole on January 17, 1912 heart-broken as his rival, Roald Amundsen had already beaten him and claimed the Pole by planting a Norwegian flag on December 14, 1911. He died on March 29, 1912 from a combination of exhaustion, starvation and extreme cold.
Before 1 pm, we were back on the highway heading north along A470.  I looked at the map and suggested going to the Lleyn Peninsula. Lawrence checked the YHA hostel list and found King's Hostel close to/in the Snowdonia National Park. The typical Welsh countryside with rolling hill, lakes, green pasture, sheep and cottages is picturesque. But the weather was poor and grey that we hardly saw much. Some part of roads is very narrow and Lawrence had to drive extremely carefully. We had difficulties finding the hostel as the directional sign has been shifted following an accident two weeks ago. We followed a wrong path for 200m before back trekking to find the right turn-off point. The hostel is an old stone house by a stream and located deep in the wood. We were the only lodgers and had the whole place to ourselves. The kitchen is about 300 square feet. Lawrence was tired and we went to bed after a dinner.
December 19 Saturday: Caernarfon, Lleyn Peninsula and Dolgellau
We had a horrible day with only less than two hours without rain.  When we set off around 9am, the day looked promising. I wished I had taken a few photos then. We took A470 through northern Snowdonia and then A487 to Caernarfon.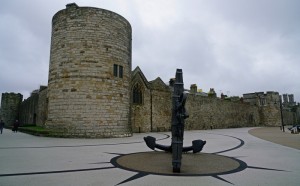 Located between the Menai Strait and the Seiont River, Caernarfon is an old town clustered around an imposing castle which construction began by Edward I in 1283 as a fortress and palace. It is a walled city with several rows of streets and many old shops. Some buildings are derelict and the town looks deserted this time of the year. 
We had an hour without rain and enjoyed the fresh air strolling along the waterfront and inside the walled city. It started to rain when we set off along the coastal road A499 in the direction of Lleyn Peninsula's "land's end" at Mynydd Mawn with long sandy shore.
The scenery must be fantastic in a clear day with narrow lanes running between high green banks with a rugged coastline.  But owing to dreadful weather, poor Lawrence had to drive with extreme care along the long winding country road. He was hungry and we tried to look for a restaurant for an hour before we found one in Nefyn at the A487 road junction. We had a nice lunch with beef and fish.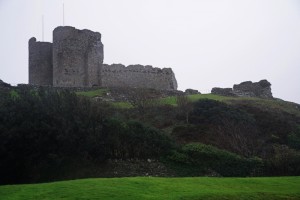 By the time we were back on the road, it was almost 2:30pm. It would be dark in an hour. Hence, instead of driving to the land's end, we took A497 to Pwllheli with sandy beaches stretching on each side of an almost landlocked harbour.
We had a quick photo stop in Criccieth which has a ruined castle built by Llywelyn the Great in 1230. Sitting on the headland, the castle divides the town's two beaches – a sandy one to the east and a pebble one to the west. The wind and rain prevented us from taking a good photo and a walk along the lovely waterfront.
Lawrence was able to relax a bit when driving on A497. We drove past Porthmadog and then take A496 along the coast to Harlech with a famous fortress built in 1283-9 for Edward I by James of St George, Europe's top military strategist. Then Owain Glyndwr made it his capital from 1404 to 1409 when the English took it over. The longest siege of the town lasted seven years ending in 1468 with the Lancastrians beaten by the Yorkists. We were driving on a scenic route overlooking the Cardian Bay. Unfortunately, it was already dark when we got there. Unlike the Nordic countries, the houses along the main street hardly leave any lights on. As a result, the place looks lifeless and gloomy. 
Finally we found our way to Dolgellau which is supposed to have a nice town centre. It was Sunday and everything was closed when we got there after 5pm. We stopped our car outside HSBC (Hong Kong & Shanghai Banking Corporation) in order to use its free Wi-Fi to get reconnected with the world (there is no Wi-Fi in the King's Hostel and the BT phone line costs a fortune to make a 5-minute call). We found our way back to the hostel without problem this time. After a good dinner with soup and lamb leg steak (with a funny taste), we went to sleep. Tonight a young couple arrived but they stayed in another building.
December 20 Sunday: Dolgellau – Chester – Sheffield
Chester, located within the loop of River Dee, was founded as a "castrum" or Roman fort during the reign of the Emperor Vespasian in AD79. It was one of the last cities in England to fall to the Normans. William the Conqueror ordered the construction of a castle to dominate the town and the nearby Welsh border.
Today, Chester is one of the best preserved walled cities in Britain which still has a ring of about 3km-long Roman and medieval walls. The town is famous for its Rows – two tiers of half-timbered Tudor houses built between 1250 and 1525. Some of the black-and-white buildings within the city centre are Victorian restorations. It also boasts the oldest racecourse in the UK: the Roodee Racecourse has been running since 1540.
We strolled leisurely around the city centre and visited the Cathedral which was first founded as a Benedictine abbey and the church was built in Romanesque or Norman style.  The Norman arch (north transept) dating 1092 is the oldest sanding part of the monastery church. It was rebuilt from about 1250 to 1525 in the Gothic style. The cloisters is well preserved. The consistory court (c1590) is the most complete example of a church court in the country. I am most impressed by the most beautiful medieval oak quire stalls from the 14th century and the Lady Chapel / Shrine of St Werburg – the patron saint of Chester, princess, nun and miracle worker. An organist was practising for the Christmas service and I listened with delight the beautiful music coming from the 19th century Grand Organ.
The Christmas market outside the Victorian Town Hall is the largest one I have seen so far. I suddenly found colourful woolen caps from Nepal. As I lost my lovely purple and blue one in the Stockholm airport, Sally brought me a new orange and pink one. We stopped by the Grosvenor Museum, a city museum, which gives us background information of the city's development, past, present and future. Chester with its distinctive Roman, medieval and Tudor feel, is charming. When we left the city at 3 pm, it started to rain. We were extremely lucky!
Our next destination was Sheffield known for its steel industry during the industrial revolution. We stayed with Paula and Peter, friends of Lawrence and Sally from their days in Karachi in late 1980s. We arrived at their house by 5pm. Peter likes Chinese food. Hence we went to Dim Sum Restaurant on London Street and had steamed sea bass, dim sum, vegetable hot pot and meat balls. The food is excellent and the price reasonable.
December 21 Monday: Chatsworth House
Based on forecast, it might be possible to view Northern lights in the UK following active solar activities a few days ago. I stayed up late and looked out of the window several times. Of course, there was no trace of the mysterious lights. But I found out from BBC later that there were sightings in different parts of the UK. I did not get up till almost 9 am. Sally and Lawrence had gone out to visit the Citizen Advisory Bureau where Peter works three times a week. When they got back, we set off for Chatsworth House.
This stately home in Derbyshire is the seat of the Duke of Devonshire and home to the Cavendish family since 1549. Situated on the east bank of the River Derwent, Chatsworth has a magnificent setting: it looks across to the low hills that divide the Derwent and Wye valleys. The house also contains a unique collection of priceless paintings, furniture, drawings, Neoclassical sculptures, books and other artefacts.
Chatsworth's garden sitting on the eastern side of the valley of the Derwent River, has a complex blend of different features from six centuries. With an area of 105 acres, the garden is a gem attracting over 300,000 visitors a year. Chatsworth has been selected as the UK's favourite country house several times and appeared in 12 films/TV series (including 'Pride and Prejudice' filmed in 1813 and 2005).
Unfortunately we had poor weather the whole morning. The entrance fee to the house and garden for is £18 and £21 for senior citizens and adults respectively. Lawrence and Sally were not keen. Though I am not keen about palaces and grand homes, I decided to take at a look at this popular country house.
The garden which may be most beautiful and enchanting on a sunny day or romantic on a foggy or misty day, looked miserable on a wet, grey and cold day. But I find 'Christmas at Chatsworth with Mr Toad' delightful and interesting. The theme of this year's decoration inspired by Kenneth Grahame's time honoured classic, The Wind in the Willows turns the stately house into a colourful and delightful fairy land. It is indeed a clear way to get young visitors accompanied by parents and grandparents to the house!
As soon as we left the expansive estate, the sun came out! We drove up to Curbar Edge Gap and had good views of the amazing landscape. After driving around aimlessly for about an hour, we headed to Chesterfield. The traffic was bad and we did not make a stop. As we were hungry, we went to Dim Sum Restaurant for an early dinner.
The night was clear and dry. Peter took us on a night tour of Sheffield. We stopped near the train station to look at a modern fountain, walked along the canal and had a quick tour of the city centre by car. I do not realise that Sheffied is part of the Sheffied and South Yorkshire Navigation system which runs for a length of 69 km and has 29 locks. After a pleasant night tour, we celebrated with Peter and Paula with Christmas cake and mince pies. 
December 22 Tuesday: Sheffield – Birmingham – London
Lawrence and Sally have many church friends in the UK and one family lives in Birmingham. We left Sheffield shortly after 9:30am and followed M1 and M42 to Birmingham. As Lawrence had not entered the postal code of his friend's house in Birmingham, we reached 15 Valley Road without any sight of his friend. We took 40 minutes to find our way back to his house located half way between Birmingham and Coventry. It was almost 1 pm when Lawrence finally reached his friend's house. As he had to return the car by 6 pm, he could only spend an hour and a half with his friends. About 2:30pm, we were back on M1 heading to Brent, London.
I would spend two nights in London before returning to Taunton. Hence I stayed with Lawrence and Sally in a house owned by a religious organisation. After dropping Sally and me off in Brent, he took the car back to Heathrow Airport. I have never been to this part of London. Most of the people I met on Craven Park Street seem to have come from Middle East and Africa. It is an interesting experience!
December 23 Wednesday: London
A day with friends. I had an enjoyable 3-hour lunch at 1 Lombard Street with Ada, a former colleague followed by tea with Betty in the Sloane Club. I am delighted to hear her Thomson photos are now in Washington DC and more exhibitions are in the pipeline. I have promised her to attend the opening of Thomson exhibition in London in 2018 (another convenient excuse to make a visit to London). At 6pm, I had a drink with William, an impressive young world traveller whom I met during the Atlantic Odyssey. He told me about his planned trips to exotic and remote countries and islands including his second visit to Bouvet. I am impressed and eager to hear his adventures. But I am too old and poor to join his amazing journeys.
December 24 Thursday: London – Taunton
Today, I would return to Taunton to spend a quiet Christmas with my godmother. The bus would leave at 3:30 pm from Victoria Coach Station. In the morning, I took Bus 18 to Euston Station, walked to Bedford Square in the rain and chatted with a couple of colleagues. My former office has moved to Bedford Square for a few months.
The coach left on time but arrived in Taunton 15 minutes late owing to heavy traffic in London and on the highway. Gary kindly met me at the coach station and drove me to my godmother's house. He also prepared me a meal box with fried rice and a shopping bag with milk, chicken, ham, bacon, eggs, bread and vegetables. As all shops would be closed on Christmas Day, he worried that we would run out of food. He is too kind and my godmother is very moved.
December 25 – 27 Friday-Sunday: Christmas in Taunton
Christmas Day– I cannot remember when I last spent Christmas with my godmother, Mrs. Thorn. 30 or 40 years ago? Mrs. Thorn's neighbour Ann dropped in for coffee and we watched BBC's broadcast of the Christmas service in Bath Abbey at 10 am. We had a simple Christmas lunch with ham and vegetables. Later we watched the Queen's address. A truly British tradition and experience!
Boxing Day– I took a leisure walk to the town centre in order to use free Wi-Fi. I sent aurora photos to friends wishing them a happy Boxing Day. In the afternoon, Mrs. Thorn was busy opening her presents. At 5 pm, Gary picked me up and I had a fantastic dinner with his family. I am delighted to meet Mrs. Li, family of his son and his sister. We had two enormous fresh lobsters from Plymouth, soy sauce chicken, crispy duck, braised chestnut duck, hot pot and sticky rice. I ate too much and could not sleep with a full stomach.
December 27– I spent a couple of hours strolling in the town centre, window shopping and surfing on internet. Though I hardly did anything, my last day with Mrs. Thorn passed very quickly.
December 28 Monday: Taunton – London
I took the 7:15 am bus to Bristol. My connecting bus was supposed to leave at 9:10 am. When I arrived at the Bristol Coach Station, I saw passengers boarding a coach to London. As there were seats available, the bus driver let me get on the 8:40 am bus. Hence I arrived at Victoria Coach Station at 11 am. I had lunch with Robert, a former colleague in Sicily Restaurant opposite the coach station. The food is great and the price very reasonable. He reads widely and I am grateful for his recommendation on Jan Morris's book on Trieste.
After lunch, I made my way to Emily's new house in Dulwich. I took the train and got off at West Dulwich. As I was one hour early, I decided to find my way to her place instead of asking her to pick me up. It's a pleasant walk especially on a warm and sunny day. Emily was surprised to find me at her doorstep!
Emily is an excellent cook. I had a feast with boiled ox tongue, beef, home-made smoked salmon and steamed eggs with dried scallops. I was delighted when Emily's son, Anson told me about his wedding. Anson and Amber invite me to their party in the summer. Where shall I be? I wonder. But if I am around, I shall certainly come!
December 29 Tuesday: London, UK – Beirut, Lebanon (GMT+2)
Emily dropped me off at Brixton Underground at 10:15 am. I took the tube to Heathrow Airport which took over an hour. Shortly after 12 noon, I reached Terminal 5 and checked in and went through immigration smoothly. I had a light lunch and drink in the lounge before the plane took off around 3 pm. After watching two films, I arrived at the Beirut airport after 9 pm.