Day 20 – 26 (April 12 – 18, 2015) : Gough Island, Nightingale Island & Tristan da Cunha
Day 20 (April 12, Sunday): Gough Island – Noon GPS position 40° 01' S / 010° 08' W; Weather +13°C, sunshine; Wind WSW8; Sea 7; 1 lecture; 220nm to Tristan de Cunha
We finally see land after five days' sailing. I get up early to look at Gough Island before taking breakfast at 7am. The sun is shining and we have fantastic views of the leeward side of the island which is 13km long and 7km wide with an area of 68km². This uninhabited island is rugged, rocky and surprisingly green. The wind is too strong for safe zodiac operation. Hence, we have a ship cruise along the leeside for a couple of hours.
The South African weather station located on the island plateau, many sea caves, waterfalls and rugged brown peaks are clearly visible. A vividly-coloured rainbow drapes the contours of the hills.  Through the binoculars, I can spot seals on the beach and Rockhopper penguins on the slopes and some rocky crags.  There are lots of birds too. Around 11 am our ship moves on and I stay on deck watching the island receding behind us.

Once out of the sheltering leeside of the island, the ship has to battle the strong wind with wind speed Beaufort 9, waves and swells. We have a served lunch on such a rough sea day.  I enjoy my crab-and-corn soup and fried noodles.
I watch the documentary 'The Secrets of Bones'. Parts 3 deals with the bones of birds that enable them to fly while Part 4 is about 'Sensing the World'.  At 4:30pm, Brent talks about 'The Introduced Rodents of Tristan da Cunha and Gough Island: Impacts and Management Options' using materials provided by the Tristan conservation authority. The Gough mouse was brought to Tristan and Gough Island by boats in the last two centuries. It is large (at least double the size of the ordinary mouse) and is a serious threat to the birds on the islands. They take fresh bird eggs (including eggs of the rare Gough bunting) and eat beetles, petrels and albatross chicks alive which are not evolutionarily capable of defending themselves from land predators. Just how this situation has developed is not well understood. Given the size of the two islands and limited resources available, it seems difficult if not impossible to eradicate the problem. Man has created this disaster for the birds here. What can be done? I wonder.
Tonight we have a colourful sunset. At the recap, we are pleased to know that the wind has been dropping and we have permission for cruising near Nightingale Island. Jan hopes a brief landing on the Middle Island which is important for the club members to give the destination a tick in their check-list. Then our ship will sail to Tristan to drop medicine for the locals.
According to Bob, we will cross the sub-tropical ocean convergence boundary in the night (somewhere between Gough and Inaccessible Islands), which is significant biologically, though we won't feel a bump. Everyone is busy writing postcards as Brent will send a postcard free from Tristan for all passengers. I have to work on my survey results and decide to give the movie 'Inside Llewyn Davis' a miss. (L-?; D-fish)
Day 21 (April 13, Monday): Nightingale Island & Tristan da Cunha – Noon GPS position 37° 25' S / 012° 27' W; Weather 20°C, sunshine;  Wind W3; Sea 2;  First Zodiac Cruise; 1300nm to St Helena
As soon as I open my eyes, I can see land from the pothole. Ortelius is sailing towards Nightingale, Middle and Stoltenhoff Islands. Inaccessible Island appears on the far right side of this group of island. Tristan da Cunha, a volcano island in a perfect conical shape is looming in dawn hues at the far eastern horizon. I have marvelous panoramic views of Knightgale Island including a dozen of huts for scientists to live and work. Unfortunately, we are not allowed to step ashore and meet the people owing to the epidemic.  What a pity!
| | |
| --- | --- |
|   |   |
| | |
After an early breakfast, everyone is ready for action. This is my first zodiac cruise on this voyage and I have high expectations given the spectacular scenery and wildlife in this area. Apart from the bird watchers who go with Christian, we all line up and get into a zodiac without knowing who will be driving our zodiac. I hope to go with Dmitri who has taken me on some amazing cruises in the Antarctica Odyssey. Unfortunately he had departed with the first group. I am in the fourth zodiac which leaves about half an hour later owing to swells. 
Today, my zodiac driver is not in his top form. He seems nervous and does not want to get close to the rocky shore or sea channels to explore sea caves, look at fur seals and find birds.  As a result, our zodiac stays some 15-30m off the coast while others may be a few metres away from the shores and seals. When others tell me how much they have seen, I can only say for certainty that I have seen the back of a penguin on a slope, some Tristan skuas, spectacled petrels and Antarctic terns and plenty of seals – most if not all from considerable distance. (5 photos below are scenes on Nightingale Island)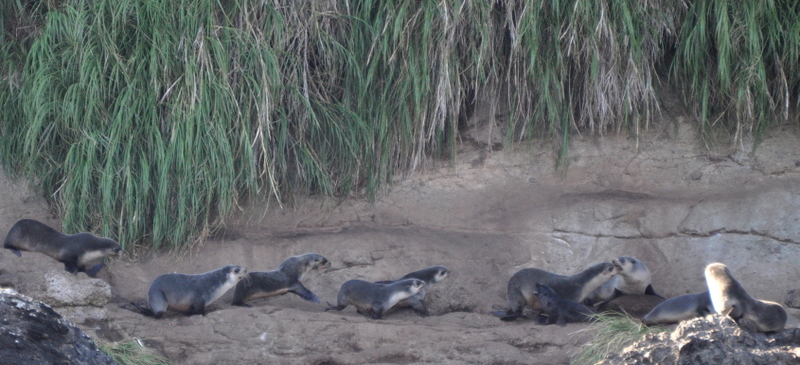 In order to give the 'club ticker' a chance to step ashore, Jan and Brent find a safe cove for a brief landing on Middle island which is home for 10,000 pairs of rockhopper penguins and thousands of fur seals. Our zodiac driver worries about swells and gives us only a minute to step ashore.  We are told to return immediately without taking photos. Such a landing is stressful and without fun: as a professional tourist, I need time to look around and soak in the ambiance.  When our zodiac pulls away, Dmitri's zodiac arrives. His passengers stay ashore at least for ten minutes. I am frustrated as well as jealous!
The Captain wants us back on the ship around noon. My reluctant zodiac driver immediately heads back to the ship. I am on deck shortly after 11:30am and watch the last zodiac arriving at least 40 minutes later. I am afraid I have a short and the least enjoyable zodiac cruise I ever have.
While we are having lunch, our ship begins to sail towards Tristan which is about 30nm away. As we can't land, we can only peep through our binocular and imagine the life on the remotest inhabited island on earth.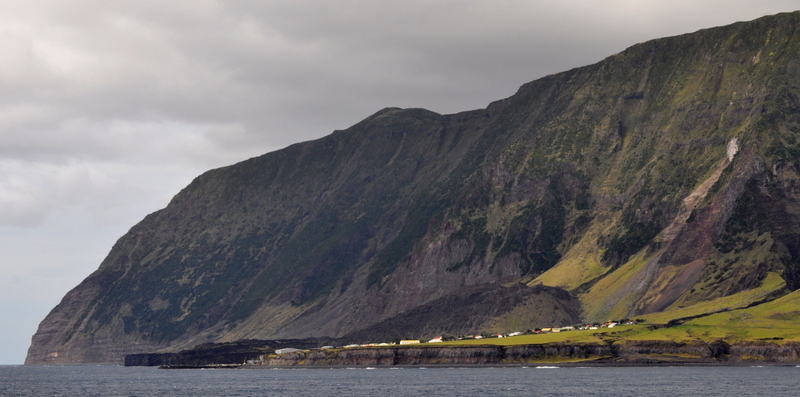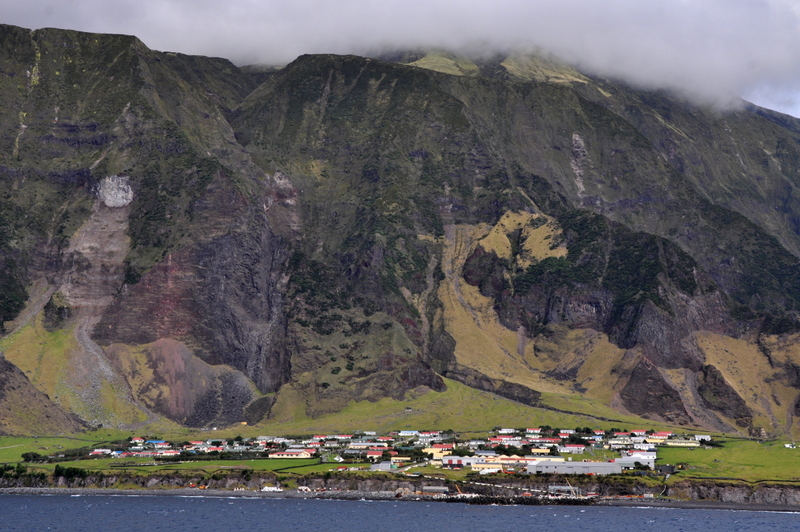 The landscape is dramatic with snow-covered high peaks visible behind clouds, steep cliffs, rugged shoreline, big waves and swells. I am excited to see Edinburgh in the Seven Seas which is dotted with some 100 colourful buildings and houses, several large potato patches several kilometres from the settlement and cattle and sheep grazing on gentle slopes. I can also see a white van on the road.
The untimely epidemic has robbed us off the chance to see this unearthly place (or utopia). The locals also miss an opportunity to meet some of the world's best and most travelled people who have come all the way in order to tick Tristan off their list.
Owing to the swell, the island sends a longboat to our ship to pick up a water-tight parcel containing medicine, Brent's baseball caps, hundreds of postcards and an enormous 'get well' card signed by lots of folk aboard. Mission completed! Around 3pm, Ortelius moves on as we have 1300nm to go!  
Before recap, Karin tells me about her exciting zodiac cruise with Dmitri and shows me her photos including two Rockhopper penguins with a beautiful yellow crest. Their zodiac was the first one to shoot off and the last one to return to the ship. During their 3-hour cruise, they have circumnavigated the Stoltenhoff Island visiting several enormous and spectacular sea caves with rocks in bright red, green, brown and cream colours. She has even seen a lobster near the rocks! I understand a few passengers on Dmitri's zodiac are scared and complain that he had taken them too close to the rocks and the shores. I wish I had taken their place!
| | |
| --- | --- |
|   | |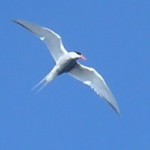 I study tourism management for fun and am always interested in travel motivations and customer satisfaction. On this occasion, I believe passengers with different interests and aptitude should be given a chance to sign up for a theme cruise or pick the driver. For example birders can go with Christian, those interested in rocks and geology with Adam, the adventurous, curious and young at heart with zodiac masters like Brent, Dmitri, Robert and DJ (though they are hotel staff, they are expert zodiac drivers). Jan can take care of the elderly and those in need of some assistance. Also, the expedition team members should assess their own level of competency in driving a zodiac. Jan and his team should draw up a route bringing passengers to see as many highlights as possible.  
The bar is very busy tonight as we have a cause for celebration i.e. a chance to leave the ship after 11 full sea days! After a good activity day, the folks look more relaxed and cheerful. Jan talks about the weather and tells us that Plancius which had not been able to do much here owing to strong winds and swells has left for St Helena. Adam has taken some photos showing the lava flows from the 1961 eruptions near the settlement and the topography of the island. Lisa explains the history and occurrence of epidemics brought to the islanders.
The film tonight is 'Lucky Bone', a story about a girl murdered in 1973 by a serial killer. I have seen it before. But as I am in a good mood, I do not mind seeing it again. (L-pasta; D- fish and pork neck)
Day 22 (April 14, Tuesday): At sea – Noon 12:00 GPS position: 33° 51' S / 011° 14' W; Weather 23°C, overcast; Wind NNE8; Sea 7;  1 lecture
Another night with little sleep. I skip breakfast- not a big deal as I have over-eaten on the ship. The weather is not cooperating- the northerly winds are picking up with wind speeds up to 60 knots and the ship has to slow down again.  
I attend Brent's lecture on marine ocean threats. He talks first about his experience with an oil spill from Bahia Paraiso off Palmer Station (Antarctic Peninsula, 1989) and then the Nightingale Island oil spill of 2011. The locals' attempts to rescue and treat damaged Rockhopper penguins in a temporary penguin hospital which is essentially the swimming pool of Edinburgh of the Seven Seas, are most admirable. What an ordeal for the poor oil-coated penguins! Fortunately, this accident happened late in the season and most of the seabirds had gone while the seals managed to swim quickly beyond the oil slick. But several thousands of penguins might have died.
In the afternoon we watch the final parts of 'Secrets of Bones', entitled 'Food for Thought' and 'Sex' respectively. Then we watch a slide show of photos taken from a helicopter and on the ground by two German and Icelandic photographers on the 2014 Bardabunga eruption in Iceland. 
We have a gorgeous sunset while our ship continues its north-directed battle with the omnipresent and eternal waves.  Ortleius has to change course to avoid the head wind.
At the recap, Jan shows us the weather chart and hopes we would be out of the low pressure the following day. I hear about the Coriolis force (a force due to the earth's rotation) and the growing bird inventory from our journey, which is being compiled faithfully with daily updates by Christian and Bob. 
After dinner, I watch the film 'Wild' about a female backpacker who hiked 1000km along the Pacific Crest Trail in search of herself. I am a backpacker at heart and enjoy hiking. But I won't follow her footstep!
(L-chicken and rice; D- I like the chicken so much that the restaurant keeps the left-over for my dinner)
Day 23 (April 15, Wednesday): At sea – Noon GPS position 31° 38' S / 010° 38' W; Weather 19°C, overcast; Wind NNE8; Sea 7; 2 lectures
I must be exhausted as I have a good sleep till 9:30am. The weather is not good with 45-60 knots of wind and swells. It is gray with rain till late afternoon.
Bob gives a lecture entitled 'The Atlantic Islands – an Overview of their Wildlife' offering a fantastic overview of the different Atlantic islands on a variety of scales, from the very origin of these islands to the moment different species started colonizing them, to the point of genetic drift and allopatric speciation, which was the origin of the endemism phenomenon.  He described some experiments, made both by Mother Nature and humans, on the re-population of islands after a catastrophe like a volcanic eruption, or when E. O. Wilson used gas to exterminate the invertebrates on small islets to see how quickly they would be recolonized by plants and animals.  His general overview of some charismatic species including the enigmatic Buntings of the Tristan group, the different rails and crakes, the Wirebird (a Charadrius plover), and others which are mostly endangered owing to exotic predators introduced by explorers and/or early settlers to the mainland, is interesting. 
I watch a BBC documentary 'What Darwin Never Knew', which is probably the best I have seen. At 4:30pm, we have our first Team Trivia organised by Lee, a passenger who can hardly walk owing to a pinch nerve on her leg just days before the journey. As a result, she spends her entire journey in her cabin, the restaurant and the lecture room. Tao, Beverly, Helmut, Gilette and I form a team.  It is fun to take part though our team loses.
I go to the bridge several times today to watch the sprays and waves over the bow. I note the ship only makes 5-7 knots an hour owing to the rough sea and strong winds. At the recap, Jan briefs us on the weather condition which might improve by midday tomorrow. But as we are already a day late, passengers who have a boat or plane to catch in Ascension Island begin to worry.
We have a nice BBQ dinner in the dining room. The film tonight is 'Birdman'. I arrive late and cannot figure out what is all about. Hence, I decide to spend a quiet night working on the survey. (L-Nasi Goreng; D-BBQ)
Day 24 (April 16, Thursday): At sea – Noon GPS position: 28° 28' S / 009° 32' W; Weather 25°C, sunshine; Wind NW5; Sea 4; 2 lectures
Thank God,  the weather is better with a calmer sea. It is hot and only one lonely Spectacled petrel is spotted gliding above the waves next to the ship.  
After breakfast Christian gives a presentation 'Birding en-route to St. Helena and Ascension Island'. This would prepare us for identifying some of the local seabirds namely the flying fish, terns, the Red-billed tropicbird, Bulwer's petrel, Bandrumped Storm petrel, the Masked booby, and other tropical seabird species affiliated with the islands.   
Robert, our fantastic Hotel Manager gives us a nice surprise: instead of tea and biscuit, we have sherbet with champagne around 11am. We all change into our summer outfit and have fun on the open deck.  I hang around enjoying the lovely sun while watching the Flying fish jumping out of the water and flying 10-20m before disappearing into the sea again.
In the afternoon, I watch an interesting documentary on dark spots on the sun, sun flares and their influence on the magnetic field of the earth.  I have no scientific mind: I am weak in logic and maths and have never studied physics and chemistry. Hence, these documentaries introduce me to new fields and developments. I join the Team Trivia at 4:30pm and learn something each time.
During recap at 6.30 pm, Jan shows us our position on the map and gives an indication on the estimated arrival time and activities in St Helena. Victoria is back on her flavourite subject – history. A ship, Flying Fish, sailed from Cape Verde in 1877 in order to seal in South Georgia.  Klutschak was on board and was one of the first people to understand the significance of over-exploitation of a species: he predicted the total extinction of the Fur seal. Fortunately, they have recovered since becoming a protected species.
I do not go to the movie tonight as I have already seen it. Instead I spend time in compiling the data of the survey. (L-pork neck; D-duck)
Day 25 (April 17, Friday): At sea – Noon GPS position: 24° 11' S / 008° 15' W; Weather 26°C, sunshine; Wind NE5; Sea 4  
Today's ocean is much smoother than for the last couple of days. We are able to move around without holding tightly on to something solid and firm. More people are returning to the deck to enjoy the sun and warm breeze.
This morning's BBC documentary on 'Freak Waves' is fantastic. Scientific study on the cause of these waves and advance in technology have helped scientists to predict occurrence of such waves hence avoiding unnecessary loss of lives and ships. Brent who was on an expedition ship hit by these waves a couple years ago, shares his scary experience with us. Another expedition boat was also hit. Luckily, there was no casualty. Thank God!
I stay on deck watching Flying fish from time to time. But to get good photos is a challenge as the fish is tiny and moves very fast. I am happy to watch without taking a picture.  At 1.30 pm we have a group photo taken at the helipad.
The afternoon documentary 'Transit of Venus' is excellent. I now learn the main purpose of Captain Cook's first voyage (1768-71) to the Pacific Ocean was to observe and record the transit of Venus across the sun, which is one of the rarest of predictable astronomical phenomena. The transits which had been used to gain the first realistic estimates of the size of the solar system, occur in a pattern that generally repeats every 243 years. Cook arrived at Tahiti on April 13, 1769 where the observations were made. The last transit took place on June 5 and 6, 2012 and many enthusiasts and astronomers travelled to Svalbard to observe this spectacular event. But the cloudy condition had ruined the viewing. The next one will be well beyond my lifetime in December 10-11, 2117 and 8 December 8, 2125!
Jan starts preparing us for St Helena at the recap: we are desperate for a good day on the island. Then Bob talks about Flying fish including why, how and how far they fly. Photos taken by Lidia are fabulous.
Tonight, I watch a strange film 'All is lost' featuring Robert Redford – a man whose yacht sank after running into a floating container box. He survived after drifting in a life-boat for days in the Indian Ocean. What a miracle!Before going to bed, I watch the starry sky from the top deck. (L- sweet and sour pork; D-pan-fried trout)
Day 26 (April 18, Saturday): At sea – Noon GPS position 19° 46' S / 006° 55' W; Weather 25°C, sunshine; Wind E5; Sea 4; 2 lectures
Another fine and quiet sea day. I enjoy Victoria's talk on history of St Helena (minus Napoleon).  The island measuring 16km long and 8km wide and located at 15° 55' S / 005° 44' W with an area of 122 km², was first discovered by the Portuguese João da Nova on May 21, 1502 and named after St Helena of Constantinople. Dutch and English began to frequent the island in 17th century. In 1657, the English East India Company was granted a charter to govern the island. The first governor arrived in 1659. Then came a small garrison, plantation-owner and slave community which at times was led by proactive and efficient governors.
St Helena emerged on international stage when the British government chosen it as the place of exile of Napoleon Bonaparte who spent his last six years on the island till his death on May 5, 1821. His body was returned to Paris in 1840. Several notable political figures have also spent their life in exile here. Today it has a population of about 4,000 inhabitants.
We have lasagne for lunch. I do not like it and ask the kitchen staff to boil my noodles for me. I add soya sauce, olive oil and hot chili and have a most delicious lunch.
The documentary in the afternoon is called 'The Earth Underwater' which discusses the thorny issue of climate change.  I enjoy Bob's talk on 'Napoleon & St Helena: a speedy potted history, 200 years on' and learn a lot about Napoleon's youth, his military and administrative careers, his defeat at Waterloo and the final phase of his life including exile on Elba and then St Helena.  Did Napoleon die from stomach cancer or from arsenic poisoning (possibly from the wallpaper at the Longwood House where he lived)? We will never know.  However, tomorrow we will get to see some of the places Bob described for ourselves!  
As we sail ever further north, sunset gets nearer to 6 pm (and sunrise nearer to 6 am). I am on the deck watching sunset before joining the recap in the bar. Jan gives us a map of Jamestown and details of our tour, opening hours of the post office and museum.  Some passengers look forward to a little retail therapy after sight-seeing. Victoria reads part of Darwin's account of St Helena from 1836.
I watch 'Still Alice', a touching film on how Alice, a 50-year old lady suffering from Alzheimer's disease and her family cope with the disease. The disease is common especially when we live much longer these days.