São Paulo, the Pantanal & Bonito January 4 – 17
January 4 – 5, Saturday – Sunday: São Paulo
I took a taxi and arrived at Kamyla's flat near metro Santa Cruz before 5am. Her dad, José Alfredo and mom Darcy coming from Buenos Aires arrived 15 minutes earlier. After a shower, I went to bed and did not get up till 9am. I was ready for an exciting day with Kamyla and her family.
Darcy is a graceful and elegant lady in her early sixties. She loves cooking and baking and now sells cakes on order. She comes to São Paulo once every two months to see her children and buy nuts and other stuff for her cake business. At 10am, Kamyla and I followed her mom to Mercado Municipal and we went into a couple of shops. She finally brought three dozen of boxes of different sizes for Easter cakes and sweet. Then we went to Armazém Santa Filomena a large shop specialises in natural products. She brought a lot of nuts and dried fruits. Finally we went to the Mercado Municipal where she brought strawberries, grapes and dates. After seeing Darcy off in a taxi, Kamyla and I began our 3-hour walk in 'Centro' the heart of old São Paulo with Vale do Anhangabaú lying in the middle.
| | | |
| --- | --- | --- |
| | |   |
| | |
| --- | --- |
| | |
São Paulo has built its wealth from the coffee trade. It went on to become the financial, commercial and trading centre with leading universities in the country. Many of Brazil's leaders were educated in São Paulo. The Centro is compact linked up with pedestrian walkway and has several lovely parks. The whole area is filled with many architectural landmarks and skyscrapers including Edificio Martinelli in gorgeous Beaux Arts style, the city's first skyscraper built in 1929, stylish cafes, squares churches and university buildings.
Our first stop was the Cathedral at São Bento which was closed. Its interior is elaborate and beautiful. Today this complex consists of a school, a university, a monastery and the original basilica from 1598. We then had a blissful and relaxing time looking at the gorgeous buildings in the banking and financial centre which I find a New York feel of yesterday.  Banco da Brasil, a magnificent art deco building has an exhibition on the resistance period when the country was under military rule. (I intended to return on Sunday but did not manage to do so) Kamyla took me to see two 18th century colonial churches Convento de Sáo Francisco de Assis which has elaborate religious paintings and frescos. Next door is the Law School of the University of São Paulo where Kamyla studied. Nearby is the Church of Santo Antônio, the oldest church in the city dating from 1592.
| | | |
| --- | --- | --- |
|   | | |
Then we crossed a bridge over Vale do Anhangabaú to reach the other side of Centro. The more impressive landmarks here include the Praςa da República and the magnificent Opera House next to the Praςa Ramos de Azevedo.
During the walk, Kamyla pointed out some of the buildings and told me the history. The Mayor's office was formerly owned by the Matarazzo family which was once the richest family in the city (as well as the country). Francisco Matarazzo Senior arrived in Santos in 1881 from Italy and began to establish his commercial and industrial empire abbreviated IRFM in 1890. We had Brazilian coffee and os pao de queijo (a kind of cheese bread) in Girondino, Kamyla's favourite café which is old and atmospheric.
| | |
| --- | --- |
|   | |
Our next destination was the area around the old railway station at Luz. We took the metro though it is close by as Kamyla considers the road from Praςa da República to Luz metro station not safe: there are often many drug addicts hanging around here. The railway station was built a century ago by the British with all the pieces manufactured in England. Today, it is still used by local trains and the metro. Part of the building houses the Museum of the Portuguese Language. Kamyla highly recommends a visit. Since there is no English translation, I give it a miss.
| | |
| --- | --- |
| | |
I spent the next two hours in the Pinacoteca de São Paulo, the city's oldest arts museum opposite the train station. It focuses on visual arts with an emphasis on Brazilian art from the 19th century until today. It is free on Saturday! I paid 4 Real for the audio guide which is fantastic. I am glad I have learnt something about the history of art education, arts in Brazil and a few artists including Almeida Junior and Rodolpho Bernardelli.
It started to rain and I arrived just in time in Kamyla's flat before a heavy downpour. I had a relaxing evening chatting with Kamyla and her parents and later Kamyla's sister-in-law. I went to bed early and had an excellent sleep.
My original plan for my last day in São Paulo was to leave after breakfast to visit the exhibition at Banco da Brasil and MASP before picking up my luggage from Pousada Dona Zilah. Kamyla's home is too cozy and comfortable to take an early departure. I spent the morning making arrangement for my remaining trip in Brazil. I was delighted to fix a 3-day trip to the Pantanal with Gil of Pantanal Discovery for 650 Real including transfers.
I had a lovely breakfast with bread, cheese and Brazilian coffee. When Darcy asked me whether I would stay for lunch, I said yes without hesitation! She prepared rice, beans, chicken and salad. Excellent! When we tried to take a photo using the self-timer, my Nikon camera dropped to the floor. My sturdy camera seemed OK but the filter was broken. Kamyla was very upset but I consoled her: if my camera works, it is fine. But the best images are already in my memories and I treasure the experience and my memories rather than the pictures. In any case, I still have an automatic Leica.
I waved good-bye to Kamyla's parents and went with Kamyla to a large shopping mall hoping to get a filter for my Nikon. After examining the camera, the shopkeeper confirms that the camera and lens seem to be fine and I have to get a new filter. The camera still works and I should leave the broken filer on till I find a replacement to protect the lens. Kamyla was relieved and started to laugh again.
It was time to leave São Paulo. Kamyla returned to her flat while I picked up my luggage before taking a taxi to Funda. My bus to Campo Grande left the bus terminal at 6pm. After four stops en route, I arrived at Campo Grande 15 hours later. I had some sleep, thanks to Flava who shared her warm blanket with me. I have been very lucky and have met so many wonderful Brazilians.
January 6 Monday: Campo Grande GMT – 3 hours
Flava called Gil when we did not find him at 6:45am at the bus terminal. He was parking when the phone rang and picked me. His office is located in Hotel Nacional near the old bus station. I had breakfast in the hotel before going to a camera shop to look for a new filter. Unfortunately, the shop does not have a filter that fits my camera.
Gil offered me home-stay for free. I spent the whole day in the kitchen typing my travel notes. He is energetic and friendly and has been in tourism business for 25 years. My quiet working day was only interrupted when my new ASUS computer could not charge its battery I watched the level of the battery dropped from 6 to 3% despite various efforts Gil and I tried to recharge it.
Gil took it to a computer expert who thought it might have something to do with the connection and lower voltage in Brazil (i.e. 110v). He is right: when I used the computer's own socket and connection, it started to recharge slowly.
January 7-9 Tuesday – Thursday: 3 days in the PantanalDay 1 (January 7) – I expected a pick-up at 10am but the minibus did not turn up till 11am. The Pantanal, the world's largest freshwater wetland and floodplain teeming with some 650 bird species and 80 mammal species covers some 210,000 km², 60% of which is located in two states in Brazil namely Mato Grosso and Mato Grosso do Sul and the remaining area in Bolivia and Paraguay. I spent two nights in the Lontra Pantanal Hotel, an eco-lodge in southern Pantanal by the new Rio Miranda Bridge. There are several lodges in the area.
| | | |
| --- | --- | --- |
|   | | |
The journey took four and a half hours. I stayed in a dorm with Pez from the UK and his girlfriend Miriam from Germany. At 5pm, our guide Louis took us on a boat trip downstream on Rio Miranda. We saw some wildlife and many birds including a capybara, the world's largest rodent, capuchin monkeys, herons, cormorants and caimans (a type of alligator).   The boat has powered by an electric battery and makes no noise. Fantastic.
The sunset was beautiful. On our way back, we saw plenty of caimans which orange/red eyes are visible in the dark. We got back for dinner just before the restaurant closed at 9pm. I had a good sleep despite bug/mosquito bites.
Day 2 (January 8) – I got up at 7am and had a good breakfast with plenty of fresh fruits.
At 8am, we were taught how to use bait (beef cubes) for piranha fishing. Piranhas have very sharp teeth that pierce through the fresh.  The river is teeming with fish and I lost half a dozen of baits before I caught my first catfish. It was very small and was thrown back to the river. Then I got a piranha which slipped away before our guide managed to get it onto his chopping board. I got another piranha a few minutes later but it was too small. So I had an enjoyable time fishing without killing any fish!
At 10am, we set off for an hour's tubing. The boat took us upstream and we floated back to the hotel. The water was muddy but clean and very warm. I thought I was in a hot tub!
Time for siesta after lunch. At 5pm, our guide took Pez, Miriam and I in a boat upstream. Then we had a fun time canoeing on the Red River, a tributary of Rio Miranda. The canoe (or rather a boat) is not easy to paddle. I got stuck a number of times and Pez and Miriam came to my rescue. It was wonderful except I was badly bitten by the hungry mosquitoes. We saw a giant otto and plenty of caimans. But the highlight of the whole trip was the sighting of a jaguar crossing Rio Miranda around 8pm. It was too dark for a clear view. Anyway, we were lucky and felt very satisfied.
| | |
| --- | --- |
|   |   |
| | |
Day 3 (January 9) – Today's activity was a jeep safari and a walk through the forest. We saw two toucans, some howler and capuchin monkeys and plenty of caimans. The most exciting moment was when I finally saw two jarbiru storks, the bird symbol of the Pantanal on the way back to the hotel. During the 90-minute forest walk, the guide pointed out a few trees including a palm tree which produces the acuri – bacuri nuts – food for the macaws.
Pez, Miriam and I left the lodge at 2pm and had a transfer to Bonito in a minibus from the Catarino's Guest House. The place is small but clean and cozy. I was too lazy to look for another hostel and simply took a bed in a female dorm for R$45. In any case, as January is a high season and I would not get a room in a hotel or pousada even if I was prepared to pay R$150-200 a night.
Woolley (a German) and Alex both speak English are helpful. They told me that the most popular trip in Bonito is a day trip to Rio da Prata. After making many phone calls, Wolley got me a place on January 12. I went to another travel agent Ygarapé Tour on the main street to book two more trips on January 10 and 11. I did not sleep well as I was bitten and felt itchy. The air-conditioner was unbearably noisy.
January 10 – 16 Friday – Thursday: 7 days in Bonito
Bonito is said to be the model and epicenter of Brazil's econ-tourism. Owing to its topography (with low-lying rolling hills, valleys and plains), geology (limestone, caves and crystal-clear rivers) and beautiful landscape shaped by its economic activities i.e. farming and ranches, it is an ideal location for eco-tourism i.e. making use of its nature as the tenet for its tourism development. Bonito's population wells from about 19,000 to over 50,000 during peak seasons.
It is an eye-opening experience to see how a small town can develop some 25 tours for snorkeling, adventures, dive, rappel, caves, waterfalls, swimming, bird watching horse-riding, hike etc. But eco-tourism here takes on its own form: everything is organized, controlled and excessively expensive especially during the high season. A single room in a hotel/pousada ranges from R$125 to 300. The cheapest activities are a visit to the Bonito aquarium for R$20 and a swim in the municipal pool for R$30.  The expensive destination is Abismo Anhumas (a limestone cave) with scuba diving for R$805 and rappelling and snorkeling for R$575. One has to pay separately for transfer by minibus or car/taxi/mototaxi.
I do not have definite plans on how long I spend in a place. But when I asked Kamyla to get me a filter for my camera, I knew I would have to stay in Bonito till the filter arrived. Kamyla sent it by Sedex on January 11 with scheduled arrival before January 15. The filter did not arrive till 10:30am on January 16. I ended up spending seven nights at Catarino's Guest House. Fortunately, I got myself gainfully employed as I made a trip everyday.
Trip 1 (Jan 10) – Nascente Rio Sucuri R$170 (transfer R$40)
The bus picked me up at midday and drove 19km to reach the starting point. I had a buffet lunch and a nature walk to the see the source of Rio Sucuri where is fed by water coming out from a dozen of springs. A group of 10 participants all with wet suit and safety jacket followed an instructor snorkeled for over an hour. The water is crystal clear with exuberant subaquatic vegetation. I saw some piraputangas, curimbas and douradors (gold fish).
Satisfaction level: 7 out of 10 (the water is unbelievably clear and beautiful but I had expected more fish)
Trip 2 (January 11) – Gruta do Lago Azul (Blue Lake Grotte) R$60 (private transfer R$80)
The grotte 19km from the city only takes 350 visitors a day. It closes at 2pm as there is no more sunlight coming through the opening of the cave. Visitors are put into groups of 15 and have to walk 800m to the entrance before descending into the bottom of the grotto. Each group is allowed 10-15 minutes to enjoy the scenery of the blue lake.
I was picked up at 6:40am and arrived 30 minutes later. I was in Group 3 and did not meet the guide till 8am. By the time I reached the viewing platform, it was about 9am. The first light just came through the cave lighting up the far left corner of the lake. The light, reflection on the water and the blue colour are amazing.
Satisfaction: 6 out of 10 (the timing of arrival is good but a longer stay would be perfect. I could see how the whole lake turns blue!)
Tour 3 (January 12) – Rio da Prata R$225 and Burcaco das Araras R$45 (transfer R$45)
This full day trip is very good.  Rio da Prata is about 50km from Bonito. Unfortunately it is difficult to drive on the dirt road after heavy rain the day. Yuri the driver who stayed in another hostel decided to make a long detour via Jardim and we arrived 20 minutes late. The group had already left for a 30-minute nature walk. Yuri and his girlfriend Kamyla and I were taken by a truck to the river to meet up with the group.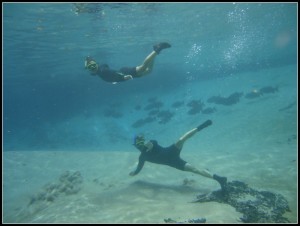 The 2.2-km float is fantastic: we began our float in Olho D' Agua which has abundant aquatic life though the water is not as clear as Rio Sucuri. I also saw two springs. Some monkeys dropped nuts from trees to feed the fish. Awesome! We had walked a few hundred metres to avoid a sector of dangerous rapids. There are some rocks and dead trunks. My leg was cut by a trunk. When the tributary meets Rio da Prata, the water all of a sudden gets cold and murky. We floated on Rio da Prata for about 600m. The guide arranged a boat to take us to the landing 1km downstream as the river is deep and the water is too murky for good snorkeling.
I had a good lunch around 1pm. At 3pm, Yuri, Kamlya and I left to watch macaws in a sinkhole nearby.  The hole is 124m deep with a diameter of 500m. At the bottom is a lagoon surrounded by exuberant vegetation and home to caimans whose survival is a mystery. Some 120 bird species and other mammals also live here. There are two viewing platforms and small groups spend 10 to 20 minutes at each platform.  The setting is awesome. We saw a dozen of red-green macaws which are playful and noisy. I watched a couple perching on a tree for five minutes and took some pictures. It is amazing.
I paid for a transfer but suspected that Yuri was not paid for the journey. What has happened exactly, I have no idea.
Satisfaction: 9 out of 10 (I had expected more macaws)
Tour 4 (January 13) – Eco park Porto da Ilha da Padho R159 (transfer R$45)
This is essentially an aquatic theme park 11km from town centre. The developer has put the assets to optimal and creative use.  Things are very organized: I was given a lock in which I found my schedule of activities for the day.
At 9am, I had a fun 5-km ride on a rubber boat with 10 other people going through three falls. The highest one is over 6m! I had lunch at 11am. The buffet lunch was delicious with BBQ beef and fish stew.
At 1pm, I joined 15 people for kayaking. The total length is 4km with 3 falls. One fall is about 5 – 6m high. I have kayaked many times. But this time, the man sitting at the back of the kayak kept the boat swirling. Both of us were frustrating. At the end, one of the instructors took his place while he went to another kayak with a lady instructor. We had bad weather with rain pouring down relentlessly for some 15 minutes. I was frightened by the lightning and thunder as a few people were struck dead by lightning a few days ago in Argentina. I was getting cold too (In the evening, I was sick and had a temperature)
At 3pm, I joined a group of 15 persons doing something new. Each of us took and floated on a huge round inflatable buoy. We also had to go through 3 falls! I was thrown off my buoy twice.
I had the last activity at 4pm. This time, I had to learn to balance myself and paddle while standing up. I had no problem and was the first to return to the landing after some 20 minutes' paddling.
All activities take place along a short stretch of the river making full use of the natural falls of different height. The main activity area is actually fairly small though well-designed and managed.
Satisfaction: 9 out of 10 (if the weather could be better, I could have given it 10 out of 10)- the best value for money tour in Bonito!
Unfortunately, I felt sick in the evening and started to vomit. Was it the salad I had or was it the cold weather during the kayaking? I also had a slight fever. I moaned and groaned and got up in the middle of the night and vomited for the second time. I left the door open and turned off the air-conditioner. I began to recover.
Tour 5 (January 14) – Boca da Onςa R$170 (transfer R$45)
I got up feeling tired. But I had already paid for the trip, I decided to go. The venue is about 55km from Bonito and it took an hour to reach the ranch. I slept most of the way and felt better.
This place takes 250 visitors a day and visitors are put in groups of 15-20. We had 20 people in our group. We first descended a staircase with 886 steps to reach the river. The first waterfall we saw was the highest one in Mato Grosso do Sul State standing at 156 metres. We stopped for a swim and to take photos. We followed the river for a while and then started to walk up to the rim. Out of the 11 waterfalls here, I find the Waterfall of the Ghost picturesque. But the most enjoyable one is the Monkey Cave Waterfall where I had to swim through a cave to reach it. The guide said the water here is beautiful and blue. Unfortunately, it was muddy and uninviting after heavy downpour of rain the day before.
Satisfaction: 6 out of 10 (the scenery is good and the ranch is well managed, comfortable and beautiful. But it is not value for money and I prefer something more natural, active and less organised)
Tour 6 (January 15) – a day in the Municipal Pool R$30 (transfer by motor taxi R$20)
I had not joined any tour today and planned to work on my travel notes and photos. Then I met Fabio who was planning to go to the Municipal Pool. He found a motor taxi too. So I went to this park which I have heard a lot of flavourable comments.
There is nothing free in Bonito. Even a visit to the Municipal Pool 6km from the city managed by the city hall of Bonito cost R$30. But the authority has landscaped the area well providing a vast grassy park for people to rest, play volley-ball and to BBQ. Swimmers can jump into Rio Formoso from several platforms. I had my computer and spent most of the time doing my notes. When it stopped raining, I took a swim and saw plenty of fish in the river.
While I was resting, I met the Alaro family from Santa Cruz. Werner works for the Evangelical Church. His wife Victoria is very friendly and their eldest speaks English. When I told them that I would visit Santa Cruz, they invited me to stay with them!
Satisfaction: 8 out of 10 (this high rating is due to its relatively low costs and the peaceful time I had in the park)
January 16 Thursday: Bonito – Corumbá (5 ½ hours)
The filter finally arrived at 10:30am today. I immediately packed up and Wolly took me to the bus terminal. I brought a ticket for R$68.5 for Corumbá. The bus which was supposed to leave at 12 noon did not leave till 1pm. It took three and a half hour to arrive at the point where I took a truck to the Lontra Pantanal Hotel on January 7 (less than two hours' drive from Corumbá). From a logistic point of view, Gil should have arranged me to go to Bonito first before the Pantanal.
I met a Bolivian family on the bus. They were also going back to Bolivia after spending two days in Bonito. Mr. Ferriar and his three children all speak English. He asked me to follow them. We stayed in the City Hotel and I paid R$70 for a single room. We had an excellent meal in a popular restaurant nearby. I had three pieces of juicy BBQ beef, rice and salad. I treated him with two bottles of beer as I am most grateful for his help.
January 17 Friday: Corumbá, Brazil – Quijarro, Bolivia GMT – 4 hours
Corumbá is a border town which is the least attractive and the poorest town I have visited in Brazil on this trip. Some of the buildings in Art Deco style remain standing. The river has many boats taking visitors to see the Pantanal. But tourism is less developed and the city is dilapidated.
I spent over an hour wandering around the sleepy and lifeless town. I asked the hotel to take me to the border for R$30 (a bus ride only cost R$2) as I did not want to walk with my heavy luggage. I reached the immigration control point at 11:20am and joined the queue with about 30 persons before me. But I did not leave the Brazilian soil till almost 1pm. There were only three officers (two handling incoming visitors from Bolivia and one dealing with outgoing visitors). Brazilian efficiency is terrible and this explains a lot about the slow progress the country is making despite of its vast natural resources.
*****************************************************************************************************************************
| | | | |
| --- | --- | --- | --- |
| | | | |